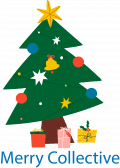 Spend your Christmas with Merry Collective, a design team from Australia and Singapore that makes gorgeous Christmas outfits for kids, adults, and families! We make each costume with high-quality cotton which is cool and comfortable to wear for countries with hot seasons. It's difficult to locate cute and weather-appropriate Christmas attire for our families. That is no longer an issue with our collection of designs! Today is the last day to shop on our designs and enjoy Christmas with elegant elegance and charm!
So what are you waiting for? Come over and spend your Christmas with Merry Collective.
Do check us out at our website before the offers have been gone!
Accessories to go well with the Merry Collective costumes
Christmas accessories are just as popular as Christmas costumes. Christmas hats, Christmas top hats, Christmas holiday aprons, Christmas slippers, Christmas stockings, Christmas sweatshirts, Christmas red velvet maid costume, hand muffs, Christmas toy gift bags, cloaks, robes, capes, toy bags, gloves, wigs, and other costumes are all available as Christmas accessories.
So where can you get these outfits and accessories? You can always get them at anytime, anywhere within the tips of your fingers through online platforms. Such platforms are Lazada, Shopee and Amazon. If not then you can go down to nearby shopping malls to get them when Christmas season comes.