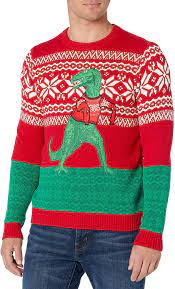 Get Christmas sweaters. Do you know where to buy it.
Christmas is the time of year where we celebrate with our loved ones. We also eat at restaurants or at home by just eating turkey during this festive season. We also play in the snow or even eat candy can as well. On the day of Christmas, we also open presents on the 25 of December.
Other than that, we sometime will take family photos to help us remember the best times in Christmas. Family will wear Christmas clothes during Christmas. But another clothing they could wear during that season, is Christmas sweater.
How and where can you get Christmas sweater if your rushing for time. it can be used to keep your self warm during the snowy season and you can do photo taking when wearing it as well.
There are more than one design of Christmas sweaters and it may come in different colours. IF your running out of time of finding one for yourself or for your family. But can't get it as their out of stock or you can't find the best one on the internet?
I suggest that you go to Esty website. Their company offers clothing & shoes, wedding and party, jellwery and accessories. But what is more important is that they offer Christmas sweaters as well. They have different Christmas sweater designs to choose from which comes in different colours like balck, red, green and white. For their price of their sweaters, some are cheap and others are expensive.
For me if you want to purchase these sweaters for Christmas for your family members. I believe that this is the right website to choose to buy sweater. But if you want design christmas clothes for babies, childeren and adults. You can go to Merrycollective website.